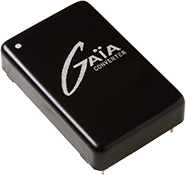 If you need MIL-STD-1275B GAIA Converter has a new front-end product to complement its family of 50W power pre-regulator. This product PGDS-50-O-K is dedicated to military vehicle to sustain the stringent military specifications of MIL-STD-1275B. It allows to enlarge input voltage from 6Vdc to 100 Vdc during cranking and transients of vehicle batteries and has to be used in conjunction with standard GAIA Converter DC/DC modules with 9-36Vdc input range.
The input is 28 Vdc and is adapted to 9-36Vdc and 16-40Vdc series of GAIA Converter modules (H families) 4W, 10W, 25W, 26W.... or a combination of them. As a lot of military retrofit programs are taken place with military vehicles (tanks, light vehicles, military trucks ,launchers ...)around the world and majority of them require this MIL-STD-1275B standard, GAIA Converter is expected a successful life of this product.
GAIA Converter offers today one of the widest choice of DC/DC converter with more than 3500 references from 4W to 150W of power and from 4.5 to 150 volts input range and 1.8 to 48 V output possibilities.